Car Services For Any Occasion: From Party Busses To A Vintage Rolls Royce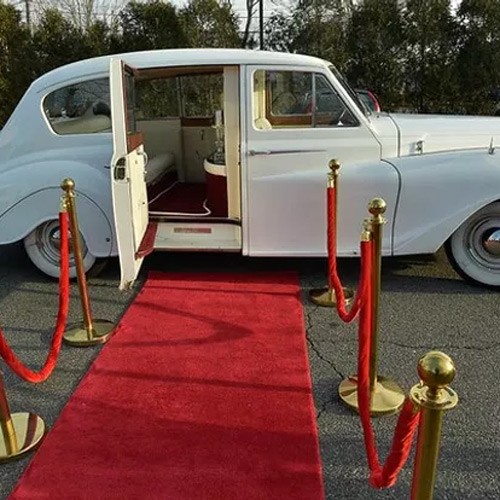 If you're looking for a way to roll up to your next event in style, call on EYE to EYE Events for car service in Parsippany. Our wide variety of classic, luxury, flashy, and fun vehicles is sure to excite whoever steps inside! Especially for events like weddings and proms, it's common for parties to arrive and depart with a car service, and when you choose EYE to EYE Events for your needs, you're sure to find one that works for your situation. We're the experts when it comes to event planning in Parsippany, and our car service will ensure that you've got what you need for transport, whether it's for fun or necessity. Call our team today to learn more about your options for our car service, or to ask about our other services like DJ & lighting!
Finding The Right Ride For Your Event
When you want to make a grand entrance (or exit) for your next event, no matter what it is, EYE to EYE Events has the perfect car for your needs. If you're looking for something to escort the bride and groom away from their reception and onto their new life together, we've got cool and classic vintage cars that will bring an air of luxury and romance to any newlywed couple. On the other hand, if your event is celebrating the birthday of a wild child, you can choose from any of our limos or party buses that will bring your guests to and from the party safely with some extra party on the inside. Need something in the middle for a corporate event or just to take guests to and from a parking area? Take a look at our shuttle buses that give your attendees a comfortable place to sit while they travel to your venue. No matter what kind of celebration or get-together you're planning, our car service will ensure that you've got the wheels you need to get where you need to go!
A Variety Of Car Service Options
1966 Vintage Rolls Royce Austin Princess
Chrysler 300 Limo 10-12 Passenger
1966 Vintage Rolls Royce Austin Princess
Party Bus 26-28 passenger
Phantom Rolls Royce
Party Bus 22-24 passenger
Mercedes Benz Limo Bus 12-14 Passenger
Chrysler 300 Limo W/ Jet Door (10-12 Pax)
Party Bus 38-40 passenger
Shuttle Bus 54 Passenger
Party Bus W/ Bathroom (35-37 Pax)
Cadillac Escalade Limo 16-18 Passenger
Cadillac Escalade Limo W/ Jet Door (16-18 Pax)
Party Bus 28-30 passenger
Party Bus W/ Bathroom (38-40 Pax)
Party Bus W/ Bathroom (50 Pax)
---
Start Planning Today!
Give Us A Call for All Your DJ & Entertainment Needs In Parsippany & The Surrounding Tri-State Area!