5 Ways Lighting Can Improve & Enhance Your Next Event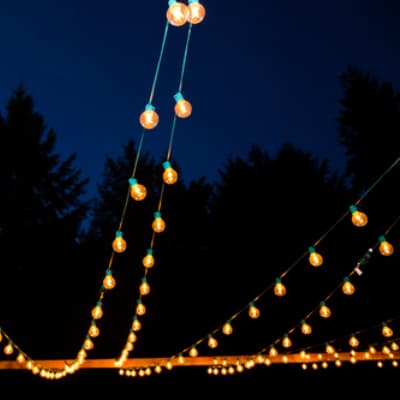 It's not often that party-goers pay attention to the quality of event lighting, but if any wedding, prom, or other big event were to be without the proper lighting, they'd certainly notice! When you're making plans for your next event, it's essential that you spend some time thinking about the kind of lighting you want. Aside from illuminating the space so guests can see where they're going, lighting can improve and enhance just about any kind of event you're hosting. The right lighting can be used for multiple things:
Directing Attention
Lighting is a surefire way to direct attention to even the largest of audiences. What happens when the lights go down in a movie theater? Everyone pays attention. That's how lighting can help you gain control of your audience and allow them to experience what they came to see! Whether it's the bride and groom taking hands for their first dance or the prom king and queen accepting their crowns, lighting engages and guides your audience with ease.
Atmosphere
Even with something as simple as LED lights beneath a dining table, lighting can change the atmosphere and vibe of just about any party or event. Guests will know when the dance floor lights up with bright, colorful lights that it's time to boogie. They'll also know it's time to listen up to a speaker or announcer when the lights dim or a spotlight appears.
Decoration
Most event venues are fitted with their own overhead lights which can leave the room looking bland and even overexposed. With unique event lighting, you can reinforce the theme of an event without having to work harder than you want. Picking your own color scheme and levels of brightness will make it easier for your event to hold its aesthetic and mood.
Photos
Lighting is vital if you're planning on having your event photographed or recorded, or even have a photo booth on hand. Cameras are sensitive to even the slightest lack of proper light, meaning if you don't have the right lighting for your event, all of your photos or videos could be ruined. Your chosen event planning pro will have a lighting team that knows exactly how to set up your lights to ensure that photos and videos turn out beautifully to provide the best memories possible.
Comfort
When everyone can see each other and their surroundings, they're more comfortable. With the right lighting, you can make your guests and any entertainers or speakers more comfortable with the atmosphere so they can speak or perform.
EYE to EYE Events has the high-quality equipment and operations specialists to provide your next event with beautiful lighting you need to make it a success. Give us a call today to learn more about our lighting options or any of our other services.
Start Planning Today!
Give Us A Call for All Your DJ & Entertainment Needs In Caldwell with A Showroom & The Surrounding Tri-State Area!